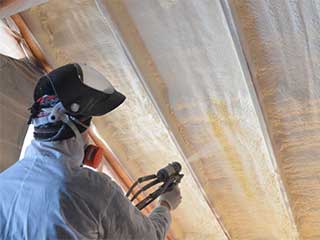 How Does Insulation Help You?
Without insulation in your home, particularly in your attic, your energy bill would be even more horrid! No air would remain trapped in your house to circulate and keep the temperature steady. The only way to try to keep it comfortable would be to run your heater and air conditioning frequently, and the costs would be a nightmare.
Unfortunately, even with regular insulation, there will still be leaks of air that slowly drain your energy. However, now there's something you can do about it!
How Is Spray Foam Insulation Different?
Unlike the usual types of insulation that will still leave a crack for air to escape no matter how precisely you cut it to fit the space, spray foam insulation completely closes it all off. It does this due to the fact it starts out as a thin film when applied, then swiftly expands to fit the spot completely. This is what creates an airtight seal and eradicates any air leaks.
Another benefit, if closed cell spray foam is chosen, is that it also leaves no room for moisture for accumulate. Therefore, no mold or mildew will be able to grow and spread to eat away at the insulation.
Allow Us To Install it!
DIY may be tempting to try to save money, but in the long run it could cause more harm than good. If applied incorrectly, space could remain and thus no seal would be created, leaving you with the same issue as before. There can also be trouble with putting the foam too close to the wood frame, which can cause damage when it expands outward.
Our professionals can handle it for you easily! Protective gear is needed to be safe from lung troubles, and excess insulation may need to be scraped off. It's best to let us take care of all of it.
Don't Wait Any Longer!
Call our experts at Attic Cleaning Huntington Beach today or schedule your service online anytime! Be sure to take full advantage of our professional attic and crawl space cleaning and decontamination services as well.