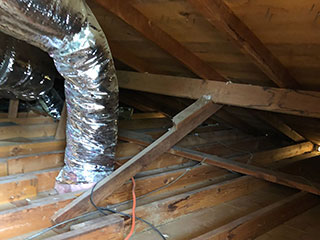 Rodents are one of the most destructive unwanted guests your crawl space can have, and they put the cables and pipes that run through it in danger! Find out how we can take care of them for you by reading further.
Prevent Rodents With Proofing
Why not make sure that rodents can't get in to begin with thanks to our fast and thorough proofing services? Your crawl space may seem fairly closed up, but rodents can get through anything that their heads can! Once they've gotten in, they're going to start reproducing and tearing apart insulation among other things ASAP. We can stop this before it starts by going through the whole area and locating any and all potential entrances to then be covered up. Metal cloth is used to close off these holes or cracks, as it can't be gnawed through, so you won't have to worry!
Rodents Already Inside? We'll Remove Them
If it's too late for prevention and the rodents have already invaded, don't worry! We can still help. Trying to use poisons or pesticides to get rid of them is too dangerous. The toxins can not only pollute your air and lower the quality, but they may also harm your pets. Instead, we offer a much safer and easier method! We trap and remove the rodents safely and ethically, so they're out of your home with no risks to you or your pets' health.
Quick, Thorough Cleaning Services
After the rodents are removed, there's still a bit more that should be done! They leave a big mess behind, but we'll get it taken care of for you with our top of the line tools. Ignoring the nesting and whatever else they left may lead to further infestations of bugs and animals who are enticed inside by it, so it's best to get it cleared out right away!
Take The First Step Now
Contact our experts at Attic Cleaning Huntington Beach and let us help keep your crawl space clean and safe in no time. You'll be glad you did!