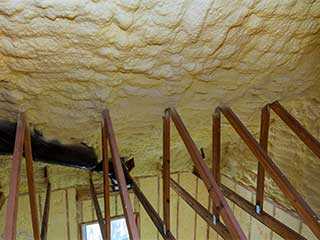 The Benefits of Quality Insulation
Most people know that good quality insulation will lower their monthly air conditioning bills, sometimes by as much as 20%! What fewer people know is that inferior insulation, that's been badly installed, is old, damaged or worn out, attracts rodents, mold and can make the people working in the building get sick. That's why you need our professional, commercial insulation experts to recommend and install the best solutions for your business at the lowest price around.
Replacing Damaged Insulation
If your insulation has been damaged by rodents, dampness, mold or is simply worn out, chances are it's doing more harm than good. Damaged insulation can breed diseases that can spread through the buildings ventilation system and can also cause structural damage to your ceiling and roof. Our team are experts in commercial services and we can not only safely remove and replace your damaged insulation, we can also thoroughly clean and disinfect your attic to maintain and healthy, safe environment for your team mates.
Commercial Installation Services
When you call our hotline, you'll receive prompt, quick and high quality services. Our experts can assess your business, advise on the best insulation options for your particular needs, provide you with a competitive quote and professionally install the insulation of your choice quickly and without disrupting your business.
When It's Time To Call
Honestly, most company owners don't think twice about checking what's going on in the rafters. There's too much going on in the business below. So how do you know when it's time to call in the insulation experts?
If your energy bills are significantly higher than at the same time the previous year
If you notice dampness or mold beginning to show through the ceiling
If the air in your workspace smells musty, stale or dusty.
If the people working in your company are sick more often or regularly complain of unexplained headaches
If you have a pest infestation, but can't find their nest.
If you are experiencing any of these signs, don't hesitate. Give us a call today!